Following an incident-packed summer, Philip Mason explores the different digital comms options available to fire and rescue services
Following an incident-packed summer, Philip Mason explores the different digital comms options available to fire and rescue services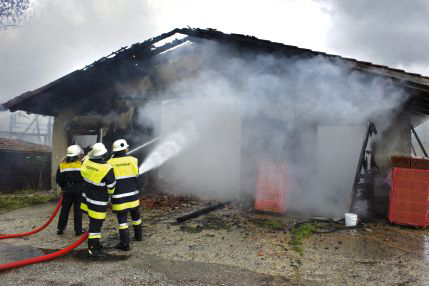 The summer of 2017 has been a particularly busy one for firefighters, with several high-profile incidents occurring in the space of a few months across Europe, the US and the UK.
In July, for instance, wildfires ravaged parts of France and Corsica, requiring the mobilisation of thousands of firefighting units. By the end of the month, 2,000 hectares of land had been engulfed in flames, including 900 hectares of forest.
In June, a massive, catastrophic fire engulfed the Grenfell Tower block in the borough of Kensington and Chelsea in London, killing at least 80 people and injuring more.
With that in mind, it's worth spending time on a discussion of firefighting as a crucial public safety discipline. It is an extraordinarily complicated, life-critical endeavour – and wireless comms play an integral role.
50,000 group calls
Mission-critical communications for the UK emergency services is provided by the bespoke, private Airwave TETRA network, now owned by Motorola Solutions.
In Europe meanwhile, fire and rescue services operate using a variety of TETRA network providers – the choice of which, quite naturally, depending on a variety of factors, such as the fiscal strategy and geography of the country in question.
The largest example of a European TETRA system Germany's digital network, which is in the process of achieving full roll-out across the country's 16 länder, having been deployed in the first instance in 2007.
Speaking of the network in relation to its use by the fire and rescue services, Johannes Wilde of Mönchengladbach fire department (and Cologne University of Applied Sciences), says most users have now migrated from analogue to digital. "Due to the digital radio system architecture, communication is now possible almost everywhere in Germany. This is particularly important for forces when resources are deployed on a regional basis, for instance when the river Elbe flooded in 2013, and fire crews from all over the country were able to communicate directly with each other for the first time."
Another example of the BOS digital network's efficacy was the 2015 G7 summit, which took place in a luxury – remote – alpine resort in Bavaria. More than 30,000 emergency services operatives were deployed to secure the event, making an estimated 50,000 TETRA-enabled group calls as they did so. This would not have been possible if crews had still been using analogue equipment.
In the German fire and rescue environment, communication with the control room is achieved using TETRA's trunked mode. However, communications between emergency forces on-site takes place via direct mode operation with DMO repeaters. According to Wilde this approach comes into its own in locations where network coverage can be patchy, such as underground garages.
He continues: "From a firefighting perspective, TETRA has had great benefits, not least that it's more frequency-efficient than analogue. Likewise, the interference often associated with the latter is no longer an issue.
"Despite the many benefits of digital radio, it will still take some time before all users accept the new technology. A major problem is the variety of different types of [TETRA] devices, all of which require training."
You don't know what you've got 'till it's gone
The European model of country-wide TETRA deployment has been truly effective in helping to standardise operational practice in terms of radio comms. It has also – as indicated by Wilde – facilitated multi-agency collaboration within the borders of individual nation states.
At the same time, it also seems to be popular with those working on the front line. This is certainly the case in the UK, for instance, where concerns ahead of the burgeoning LTE-enabled Emergency Services Network are bearing out the old adage 'you don't know what you've got 'till it's gone'.
A different model exists in the US, with individual public safety agencies being responsible for the procurement and construction of their own trunked communications networks, which typically use Project 25 (P25) technology. This approach gives more leeway in terms of how each agency responds to its own challenges and spends its own budget. This exists at the cost of fragmentation, something which P25 attempts to address with an emphasis on interoperability between organisations.
As regular TETRA Today readers will know, TETRA has struggled to gain traction in the US public safety market due to regulatory barriers and interoperability concerns, despite making inroads in other sectors, most notably transportation. That said, the tide may be turning, with multi-agency public safety workers in the US state of Georgia gaining access to TETRA via the Diverse Power co-operative's network.
Losing contact with the tower
Ken Rehbehn is principal analyst at Critical Communications Insights. He is also involved as a volunteer firefighter, working in Montgomery County in the US state of Maryland.
Rehbehn explains that while European and American systems are different, both TETRA and P25 provide for direct mode communications, though TETRA has a much richer set of direct mode capabilities. Firefighters in both regions find themselves in building structures that block the signals from the trunked system's base stations.
"We suffered in our part of the country because insufficient base stations were built," Rehbehn says. "The result of that is there'd be frequent situations where we'd go into buildings and – if it didn't already have a repeater on-site – devices would stop receiving communications from the tower.
"Our solution in that situation is to leave a colleague in a vehicle to act as a relay. The colleague monitors both the trunked system and a direct mode back-to-back channel.
"If the team in the building asks for more assistance using the direct mode channel, the colleague in the vehicle relays the request on the trunked system. In cases where many units are operating at a building, we activate a repeater in a command officer's vehicle."
He continues: "In terms of interoperability, the system enables Montgomery County firefighters to interact directly with firefighters in Washington DC, Prince George's County and so on, all of whom also use interconnected Project 25-compatible systems.
"The radio I use is split into numerous zones and talk groups, which I can change according to which adjacent jurisdiction I want to communicate with. The system IDs are co-ordinated at a national level to enable voice interoperability."
Rehbehn illustrates this with a discussion of a recent fire on one of the district's key motorways. With Montgomery's units completely occupied, it requested back-up from Washington DC, which sent an appliance in case of another call-out elsewhere in the county.
All this took place between firefighting units without reference to a control room, with the emphasis purely on immediate tactical need.
Ring the bells
So far this article has focused on the use of mission-critical voice by firefighters, either through digital and/or analogue radio systems, or – in some future utopia enabled by state-wide 4G networks – public safety smart devices.
Another method through which brigades communicate with their people is paging, a text-based technology used to let firefighters know they are required at the station. This is particularly relevant to volunteer crews who, when a call comes in, could, quite frankly, be off doing anything.
Speaking of the use of paging in a firefighting context, Swissphone's head of marketing Philipp Zimmermann says: "The history of fire brigades in Europe is heavily tied up with the use of volunteers, stretching back to when whole communities would intervene if a blaze broke out. Whereas historical communities had a church bell, fire and rescue services now use pagers."
He continues: "Paging is a broadcast technology, which means that it's able to reach a range of users simultaneously across a whole area. Technically it's one-way communication, but with modern hybrid terminals incorporating a SIM card, firefighters can now say they're available for duty."
Arguably the most widely used digital paging protocol by European fire and rescue services is POCSAG, which – rather arcanely – stands for Post Office Code Standardisation Advisory Group.
This uses transmitting base stations, typically on low frequencies (for instance, 173MHz, as used by German fire services), enabling the signal to travel further.
"Based on POCSAG," says Zimmermann, "the industry has developed an architecture of numerous fall-back modes. If a number of base stations are out of commission, the level of redundancy still ensures the whole region can be alerted. This is without the use of any IT backbone. We know that some organisations have started to use SMS for messaging, but experience has shown that this isn't always reliable."
A parallel paging protocol alongside POCSAG is FLEX. There is also the option to use TETRA's own data capabilities, something which is being explored by a smattering of European fire and rescue services, including Hessen and Bavaria, according to Zimmermann.
"We've just published a white paper laying out why we don't believe using TETRA is an appropriate way forward for fire and rescue services," he says. "TETRA is the gold standard for voice communication – there's nothing better. But we don't believe the same can be said for alerting.
"At first sight, it makes sense to have one network carrying out messaging and voice. But, if you look at the technical characteristics of the two technologies, it's actually cheaper to have a second paging network on top of the TETRA one.
"The core of the white paper is to illustrate this, as well as issues around things like link budget. We don't think most fire and rescue services will start to adopt TETRA for paging, because it doesn't make sense. It's an experiment, almost."
Firefighters face a unique set of challenges, as exemplified by the incidents mentioned above. Their comms are therefore a crucial, fascinating area of discussion.
Author: Tetra Today