Stewards at the Signal Iduna Park stadium in Strobelalle, Dortmund, Germany (which is reportedly the largest national football league stadium in the country), are now using 60 Z1p TETRA two-way radios from Hytera Mobilfunk and ordered from Hytera partner Riedel Communications.
The technical service provider for the complete stadium during matches is fulfil eventconsulting GmbH. Its general manager, Norbert Labudda, as the technical leader, ensures on match days that all the building services are operational, the public address system is working correctly, all monitors are in operation and the stadium TV is transmitting its program.

It was his decision to equip the stewarding and security service with the Z1p radios from Hytera. A crucial factor in their selection was the quality of voice output and voice transmission in the presence of significant background noise – in the stadium, which has capacity for more than 81,000 visitors, the noise level regularly climbs to 95 decibels.

"We tested the radio on site in real conditions. The Z1p is very suitable for these extreme conditions," he said. The TETRA radios at the stadium rely on a pre-existing TETRA network. The Z1p includes security features such as air interface encryption, end-to-end encryption and integrated tampering protection.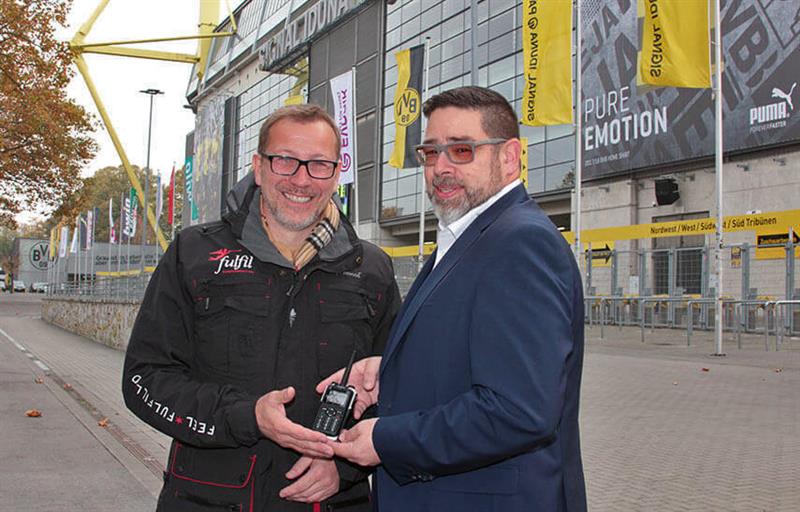 L-R: fulfil's Norbert Labudda and Hytera Mobilfunk's Frank Naseband
The staff in the stewarding and security service wear the Z1p concealed on the body while they are working in the Dortmund stadium and communicate via a remote speaker microphone fastened to their work clothing, leaving their hands free.
The Z1p combines compact design with comprehensive TETRA functionality and a power output of up to 3 Watts. "As such it is the perfect companion for all stewards, emergency and security personnel both in the football stadium and at major events and other events of all types", says Frank Pauer, deputy CSO at Hytera Mobilfunk.
Author: Sam Fenwick